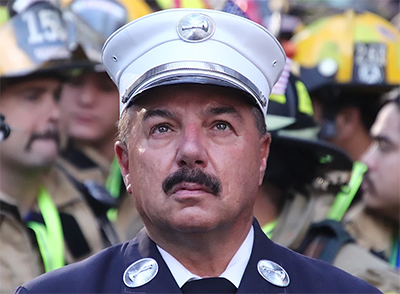 In our search for a speaker who was a survivor of the attack in New York on September 11th, 2001, we found Joe who would reveal a miraculous story of survival to the people of Annecy , France at a conference for Pulmonary diseases. "Freelung" the not-for-profit French Organization that plans on offering free lung treatment for the victims of the attack on the World Trade Center greatly benefited from his amazing speaking skills. Our biggest problem is handling and sorting all of the requests to have him return to speak again. 
- Dr. Karim Berkani Pulmonologist Annecy, France
---
Lieutenant Torrillo was so inspiring. Students gave him a standing ovation, after they sat respectfully for forty minutes listening to his courageous story of heroism. I was most impressed that he wove throughout his story the very important message of how students can be heroes every day by spreading kindness to other people.
- Principal Burt Smith, Shepton High School, Plano Texas
---
Keynote speaker, Joe Torrillo, brought such a presence to the Nixon Library on September 11, 2011 when he spoke about the tragic events of 9/11. The audience was spellbound and deeply touched by his personal account of what occurred and humbled by what one man can endure and still survive. It was an honor and an inspiration to hear and meet Joe and something I will never forget.
- Mayor Nancy Rikel, Yorba Linda City Council
---
The San Diego County Fair invited Joe Torrillo to be a speaker on the Grandstand Stage for our annual 4th of July ceremonies. 4th of July at the San Diego County Fair is a huge tradition for the community of San Diego County with over 85,000 people attending the festivities. From start to finish, you cannot find a speaker who is more professional, charismatic, and committed than Joe Torrillo. We were delighted to host him at our event. His speech about patriotism in the United States was extremely moving and a wonderful way to kick off the evening for the thousands who witnessed his words on July 4, 2012. We are hopeful that Joe will be available for our event again in 2013. I would highly recommend his services to any organization looking for an authentic, dynamic speaker whose words will ring true to anyone of any demographic.
- Katie Phillip, San Diego County Fair